How Vilo helps Waco WiFi save time
Waco WiFi's Results With Vilo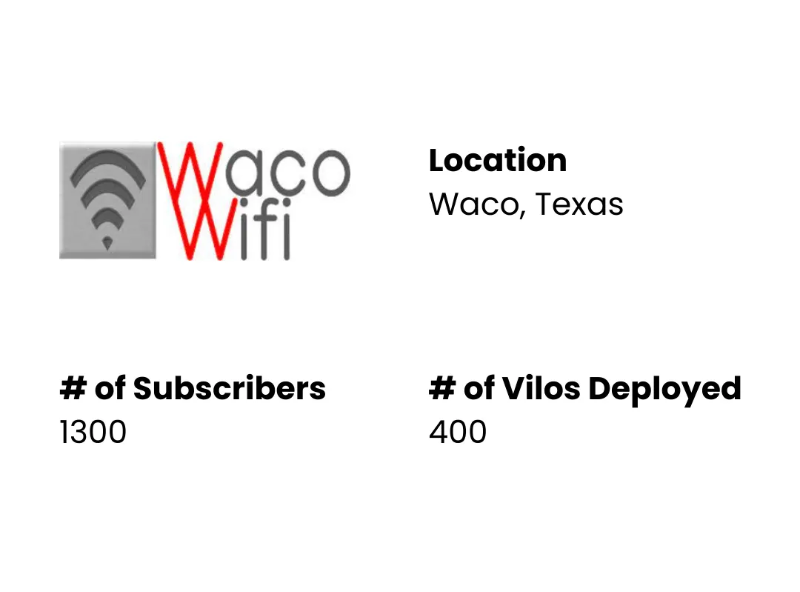 25% Decrease in
Installation Times


20% Decrease in
Truck Rolls
Waco WiFi is a fixed wireless Internet Service Provider serving more than 1300 subscribers in and around Waco, Texas. Waco owner Chris Brooks started the company in 2016 and had just a handful of customers at the time, but solely through word of mouth, Waco has grown into the established WISP it is today.
Vilo's ISP Platform Saves Waco Truck Rolls
Waco WiFi began deploying Vilos in November 2022, after one of their distributors introduced them to Vilo's ISP solutions. Of particular importance to Waco was the ability to manage their subscribers' Wi-Fi systems. "The routers we were using before didn't have a management system—it was truck rollouts if somebody messed with their stuff," says Waco's network administrator, Charlie Trotter.
"One of the things my customers like to do more than any other customer
base in the country is mess with the equipment. They like to unplug it
.
T
hey like to reset it
," Charlie explains. "
For instance,
I just came in on Monday, and thank
God
Vilo has automatic configuration in their management portal because I had three people reset their
routers to factory default.
So,
I was able to
go
in
t
here
and set it back up
just from the office."
According to Charlie, Waco has experienced a 20% decrease in truck rolls since they began deploying Vilos. "Things have gotten a lot more boring around here thanks to the way we're able to handle our routers now," he laughs.
The decrease in overall truck rolls has also reduced Waco's monthly operating costs. "With gas prices right now especially, being able to do everything from the office has cut the costs of the trucks rolling around burning gas all day."
Regarding the Vilo Wi-Fi 5 (AC1200) mesh Wi-Fi systems themselves, Charlie says that he hasn't had any customer complaints, except regarding coverage from some customers who only had one Vilo in their home at the time. "And that's an easy fix because we just add one more Vilo to their network and that will take care of it for them." Additionally, the affordability of Vilo mesh Wi-Fi systems is an "astronomical" benefit to Waco, says Charlie.
To date, Waco Wifi has deployed a little more than 400 Vilo mesh Wi-Fi systems. "Customer satisfaction is at an all-time high with these routers."
Faster Installations Thanks to Vilo
While Waco's subscriber base has grown tremendously, they're currently operating with just four employees, which is why Vilo's impact on their installation process has been crucially beneficial.
"I can fit more jobs in the day," Charlie explains. "The way it was before, the guys would go out, program the dish, hook up the router, etc. Well now, they can just plug everything in and go, 'Charlie, we're done,' and just roll down the road because I configured everything from the office."
Thanks to Vilo, Waco's installation time has been reduced by 25%, allowing Waco to schedule and complete more customer installs per day.
"Being able to preconfigure the router and everything from here so the guys can just go out, mount the hardware, shake hands, take money, and leave—we probably went from only being able to do two to three installs a day to being able to do four to five, maybe more."
Waco WiFi's network administrator, Charlie Trotter, with Vilo support engineer, Mark LaManna at Waco WiFi offices
Waco and Vilo's Partnership
When asked how Charlie's experience has been with the Vilo Support team, he recalled when he first began familiarizing himself with Vilo's product and had to reach out with some questions. "And everybody I've ever talked to over there has been fantastic; very helpful. Now I sort of feel like a pro with these things," he says.
Overall, Waco WiFi has been able to increase their quality of service while decreasing their truck rolls and installation times since partnering with Vilo.
"Customer satisfaction is at an all-time high with these routers!"

- Charlie Trotter,
Waco WiFi