Better parental controls for your subscribers

With FREE Bark In-Home Parental Controls, your subscribers can enjoy safer internet anywhere in their home
WOW your subscribers with the next generation of the

easy, manageable mesh Wi-Fi system

from Vilo
Introducing Vilo for ISPs
A complete Wi-Fi hardware and remote management solution that empowers ISPs of any size to delight your customers, reduce your operating costs, and grow your business.
The Vilo mesh Wi-Fi system provides your subscribers with an upgraded Wi-Fi experience with whole-home coverage and connectivity for all their smart devices. Give your advanced users full access to extra features through the Vilo App.
Grow your business with accelerated ROI from our low-cost hardware (further bulk discounts available for ISP partners) and faster install time. Speed up troubleshooting and reduce truck rolls with deep insight into your subscribers' networks through the ISP portal.
Designed with input and feedback from our ISP community, the Vilo for ISP
s
platform will keep evolving to meet and exceed your expectations.
We're
here to support you every step along the way
.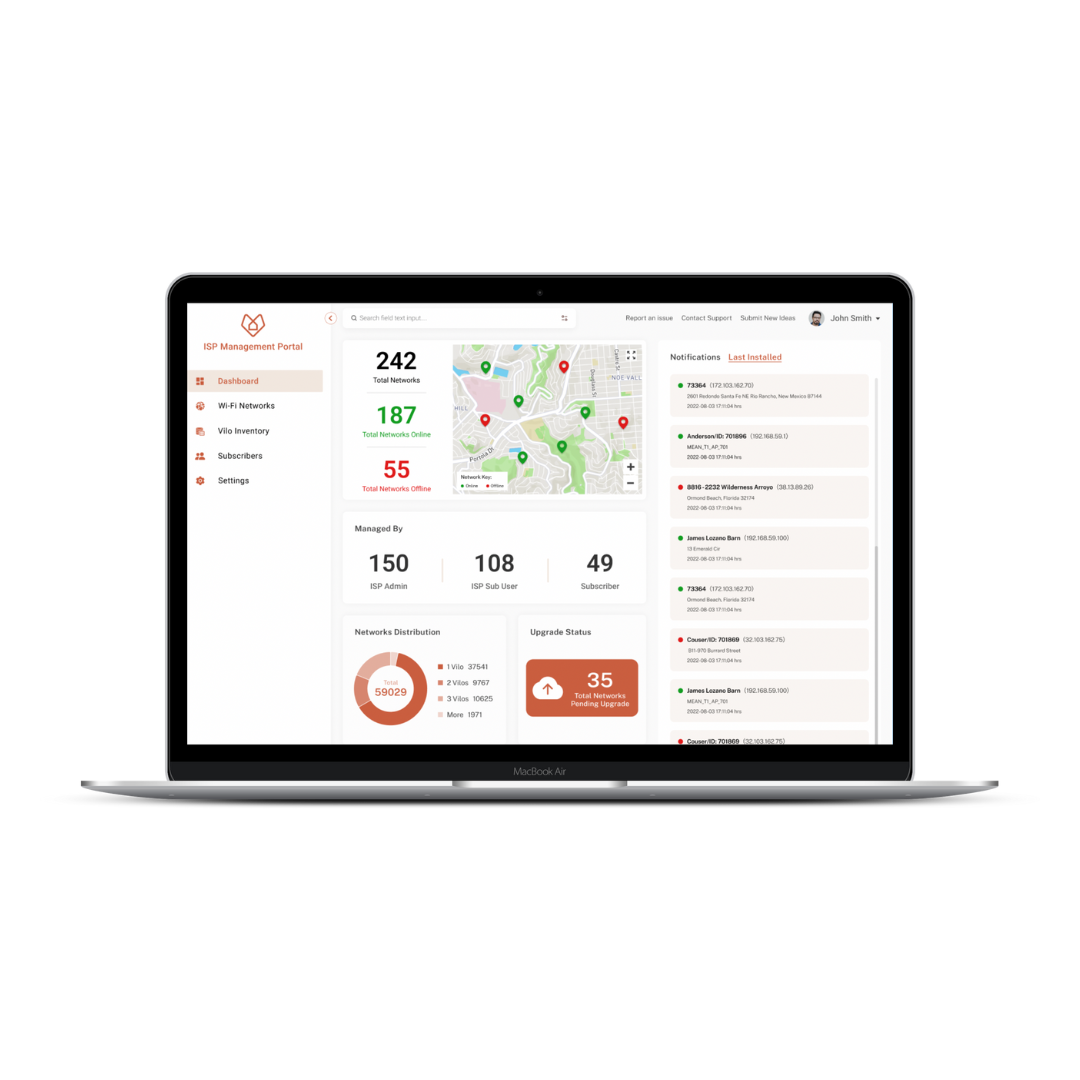 Network Management Made Easy. And Free.
> Check and manage SSID, password, network status, IP, MAC, etc.
> Remotely push & schedule firmware upgrades, restarts, & factory resets

> View connected devices & their signal strength

> Run speed tests and view speed history

> Detect interference & change channels and channel width
But You Don't Have to Take It from Us
" Vilo personnel have been very responsive in improving the back-end system that helps us provide better customer service to our subscribers which is a win-win solution for our technical support team and Vilo. Whether you're a consumer or an ISP looking for a product that is solid, customer oriented, and well within budget, you should be using the Vilo Mesh Systems. "
Albert Catanach, NMSurf
" I can honestly say that for having no prior knowledge of Vilo and then testing it out soon after learning of them, I am very pleased! The platform is very straightforward and easy to use, we are very happy with the results. Overall, the product is great; easy to use and manage. Compared to other companies out there this is by far one of the best backend systems I have dealt with. "
- Jim L., 281 Communications
" With multiple Vilos installed across my network my customers have never been happier. With their customer facing app, easy things like changing an SSID or password can be done with a click. My team can also see what's going on and give fast support with the Vilo ISP portal. Vilo is dedicated to every need my ISP demands. "
-John Gill, Kentucky Fi Owner
Trusted By Over 200+ Customers Worldwide
Join our Facebook group just for ISPs to ask questions, give feedback, and more!
Join our Facebook group just for ISPs to ask questions, give feedback, and more!